Immersive Media Camera Mount for Bell 206 and Robinson R44
Immersive Media Camera Mount
Fliegen Works developed and produces a retractable camera mount for the Bell 206 series, 407 and Robinson R44 helicopters. The system includes a camera mount that can be temporarily attached to a skid, a control box, and a vibration isolated rack for the camera's recording system or a stowage compartment for a laptop controller. An immersive video system is a good compliment to manual observation work such as pipeline and power line patrols with an observer – it allows for going back over the flight with others back at base. The 360 degree video also gives a total immersion point of view that offers different data than a high resolution camera.
The camera mount system is FAA approved by STC SR01822SE and is configured for Immersive Media Corp.'s Dodeca® 2360 spherical video camera and for Point Grey's Ladybug ® 3 camera. Certification work included structures, electrical, flight testing, and cabin safety. The structural aspects were proven by both static analysis and full scale destructive testing. The system can be adapted to other camera systems that require an unobstructed view under a helicopter. The retractable camera mount system is also adaptable to most skid equipped helicopters. Contact us for more information.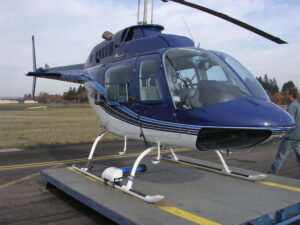 The Immersive Camera Mount System required a design that was transportable and did not require modification to the helicopter. It attaches to the skid of various helicopters. We developed a system that extends an Immersive Media Camera Head below the skids in flight to allow for a 360-degree aerial video recording.
Inside the helicopter, a Position Control Box serves as the primary control and indication unit for the up and down positions of the camera. It also distributes power to the Retractable Camera Mount and Camera Base Unit.
FAA Approved Model List Per STC SR01822SE: Bell 206A, 206A-1, 206B, 206L, 206L-1, 206L-3, 206L-4, 407, Robinson R44 R44 II.
Requirements and Specifications:
Skid diameter: 2.5" – 4.5"
Total installed weight: 43.3 lbs
Electrical: 28V DC, 7.5 to 20 Amp breaker, pin A +, pin C ground.
Required connector: MS3101A14S-1S
Occupies one passenger seat
Camera deploy time: 20 seconds
Installation Time (one-person):
Experienced installer, already in correct configuration: 30 min
First time install, new helicopter configuration: 90 min
Media:
ICA & Maintenance Manual: FW-IMC407-13 rev C-FAA approved
Bell 206 & 407 Rotorcraft Flight Manual Supplement: FW-IMC407-11-BHT206revA RFMS
R44 Rotorcraft Flight Manual Supplement (unsigned version): FW-IMC521-11-R44 rev A